Impressed, flabbergasted, and speechless is how I felt during my visit to Caelis, a magnificent French inspired restaurant situated inside the luxurious El Palace Hotel in Barcelona, Spain.
Caelis is the place to feast for a special occasion, a culinary dream experience or to have an extraordinary over the top meal of a lifetime.
The service was impeccable from start to finish, almost like an orchestrated musical. I marveled as the staff worked in perfect harmony serving and explaining each remarkable dish.
What made my dining experience even more enjoyable were the delectable treats served throughout the evening. Here is a photo of the snack sampler with instructions on which order to eat them in. The last was my favorite, a light and crisp breadstick with a red bell pepper mousse filling, Crujiente de Pizza.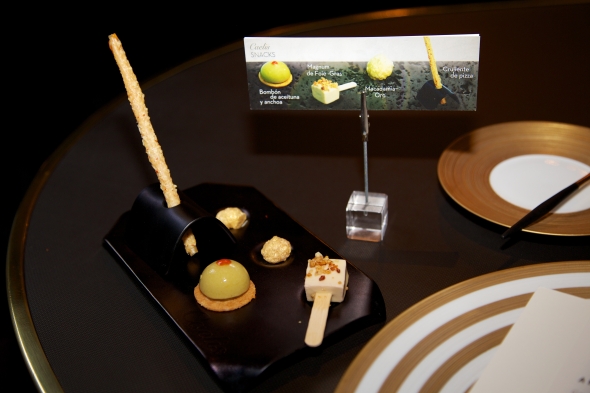 If that wasn't exciting enough, our next surprise was a delicate and flavorful Mushroom Ravioli! Mmm!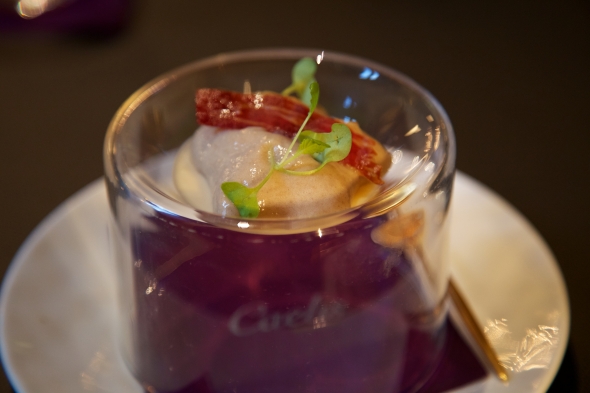 The presentation for this beautiful vegetarian starter was clever. After I completed the top dish there was a soup waiting for me on the bottom. It was delicious!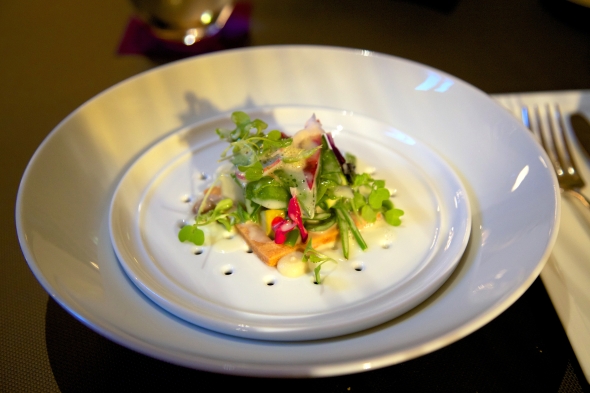 I wasn't enjoying all of this alone. My husband ordered a steak entrée and I absolutely loved the artistic presentation.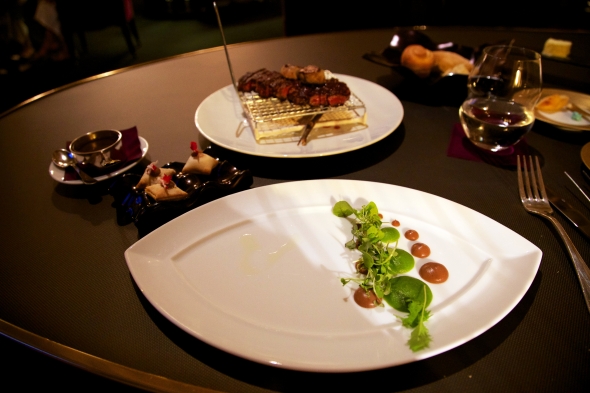 Here's a close up of the juicy steak. The heated wooden stick underneath created a smoky flavor.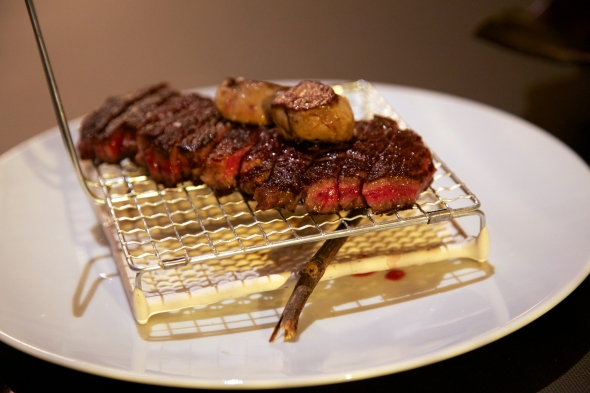 The desserts that were coming out to the surrounding guests looked incredible, so I gave in to this mascarpone and fruit filled masterpiece. It was gastronomic!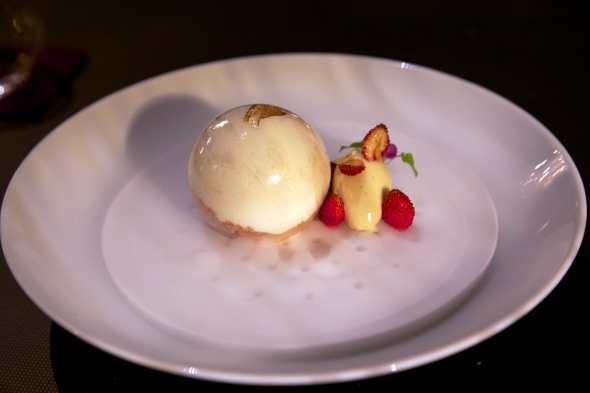 Well, what do you know? There were even more treats on the house, like this lovely display of mini sweets! The evening couldn't of been more delightful.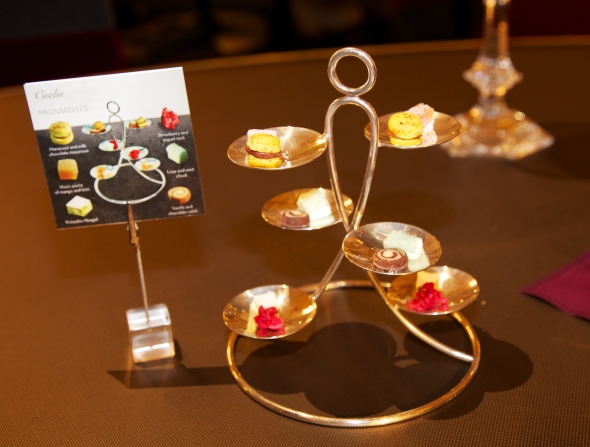 So, I returned again to have one more experience before traveling back to the states. This time I was pleased to meet one of the chefs, Mr. Eric Basset, a young gentleman with a flourishing culinary background.
This night was extra special because my husband and I celebrated our ten-year wedding anniversary. We decided to choose the set menu option from the house recommendations. Every dish was phenomenal.
Here was one of my favorites. A chocolate and caramel cigar stuffed with crab. The serving dish was specially made for it!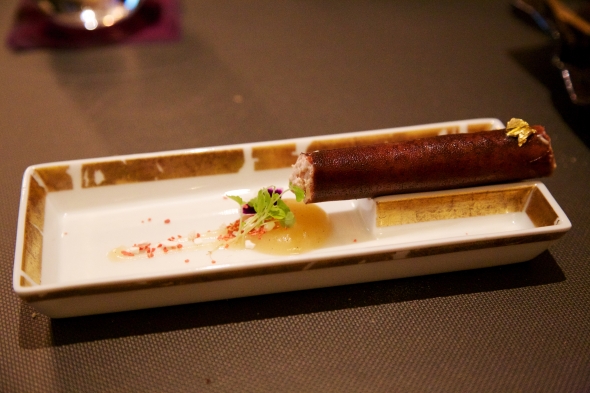 One of the highlights of the night was our main entrée prepared tableside.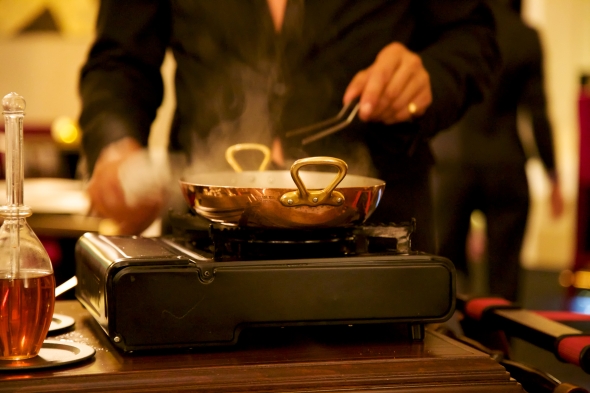 This was the best duck I've ever had. After eating it, I actually changed my mind from disliking duck to loving it! The preparation was enjoyable to watch. The chef sliced the partially cooked whole duck, prepared a broth with the bones and finished the duck breasts in a cognac butter sauce.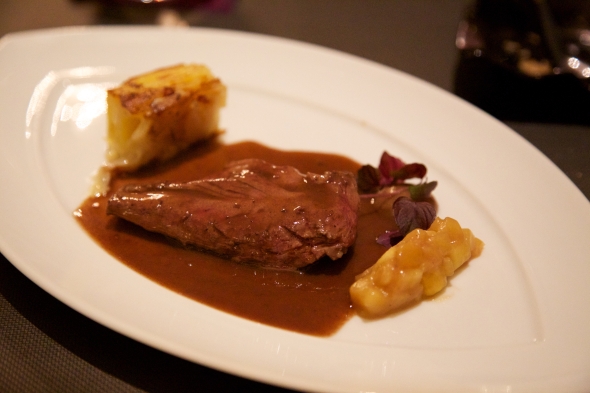 Finally, the most important reason for our return and to celebrate our anniversary in style. The Chocolate Raspberry Explosion. A dessert prepared at our table by Chef Eric Basset himself. It was creative, fun and elegant. It made us feel like kids in the most upscale setting.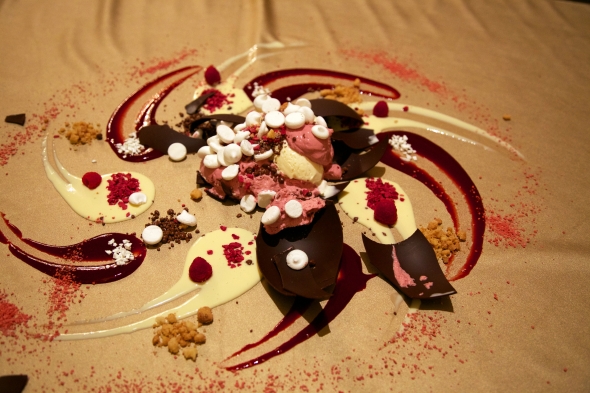 Caelis is at the top of my list of outstanding restaurants. I feel so lucky to have dined there twice and hope you can visit one day during your stay in Barcelona.
P.S. I certainly didn't post all of the images of the food. It wouldn't be fair to make you so hungry. Plus I thought it would be best to keep you wondering and tempt you to visit Caelis soon!
Caelis
Gran Via de les Corts Catalanes, 668, 08010 Barcelona, Spain
+34 935 10 12 05
http://hotelpalacebarcelona.com/es/restauracion/restaurante-caelis-14.html