Garlic and Leeks add exciting flavors to these red mashed potatoes! I like the consistency of my potatoes to be smooth for two reasons; one because I love the creamy texture and two, it acts as a silky puree to top poultry, meat or seafood entrees with.
I start by first mashing the potatoes with a potato masher and finish them off by blending with a hand blender. If you're wondering why you shouldn't use the hand blender for the entire mashing process, it's because your potatoes will be sticky and gooey from over mashing. Another helpful tip for perfect mashed potatoes is draining the potatoes entirely before mashing. Using a hand blender works well for this recipe because it blends the skins in nicely. If you would like a more rustic texture I recommend peeling the potatoes before boiling and skipping the hand blender step.
Enjoy!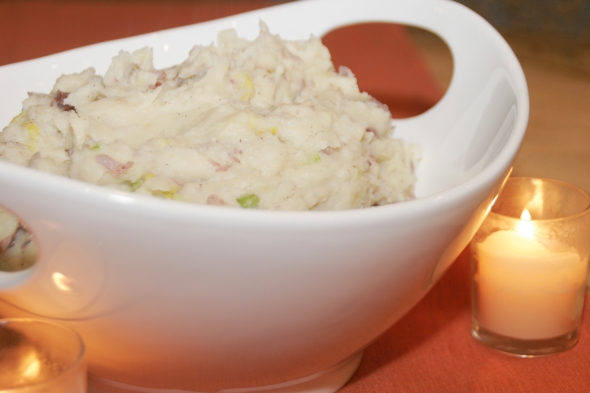 Garlic and Leek Red Mashed Potatoes
Sautéed garlic and leeks add incredible flavor to these creamy red mashed potatoes. Serve as a side or better yet, top with your favorite seafood, poultry or meat entrees.
Ingredients
4lbs Red Potatoes, cubed
2 tablespoons Garlic, minced (about 5 large cloves)
1½ cups Leeks, white and light green parts only, halved, then thinly sliced
3 tablespoons Unsalted Butter
2 cups Whole or 2% Milk
1 teaspoon Salt + additional or to taste
½ teaspoon Black Pepper or to taste
Preparation
Place potatoes in a large pot and cover with water, add a dash of salt and bring to a boil. Partially cover and cook until very tender, about 20-25 minutes, drain well.
While potatoes are cooking heat 1 tablespoon butter in a medium sized pan on medium-high heat. Add leeks and garlic and sauté until softened, about 5 minutes. Remove from heat and set aside.
Melt 2 tablespoons butter in a saucepan over medium heat. Add milk, stir and bring to a low simmer. Slowly add milk/butter mixture to the potatoes and mash until incorporated. Cream the potato mixture using a hand blender until skins are blended in and consistency is very smooth. Add salt and pepper and stir in garlic and leek mixture. Serve immediately.
Serves 4-6
Download Recipe (PDF)