I was preparing a Saturday night Chilean Sea Bass dinner. Already sounds good right? A smoky tomato puree and creamy mashed potato base for the fish is what I had in mind. Instead of Potatoes, I had sweet potatoes on hand. I added a few parsnips and even though it was different from what I had in mind, it was actually better! This accidental dish turned out to be a warm, comforting and festive dish right in time for the holiday season. Add this to your menus chefs, it's a winner!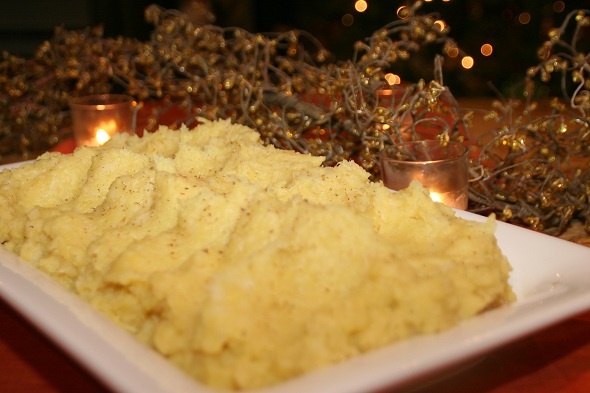 Sweet Potato and Parsnip Mash
Sweet potatoes and parsnips make a great combination. Add melted butter and milk and you have perfection.
Ingredients
4 pounds Sweet Potatoes, peeled and cubed (about 8 potatoes)
1 ½ pounds Parsnips, peeled and cubed (about 5-6 parsnips)
1 cup Whole or 2% Milk
8 tablespoons Unsalted Butter
1 teaspoon Salt, or to taste + additional
½ teaspoon Black Pepper, or to taste
Freshly grated Nutmeg to taste
Preparation
Place sweet potatoes and parsnips in a large pot and cover with water. Partially cover, bring to a boil adding a dash of salt. Cook until very tender, about 20-25 minutes. Drain well.
Melt butter in a small saucepan over medium-high heat. Add milk, stir and bring to a low simmer. Slowly add milk/butter mixture to potato mixture about ½ cup at a time (using more or less) and mash until smooth or to desired texture. Season with salt, pepper and nutmeg. Serve warm.
Serve 6-8
Download Recipe (PDF)