It's October and the holidays are approaching! This new Sweet Potato Mash Martini recipe will make a fun and exciting addition to your holiday menus.
The traditionalist in me likes to stick to popular, seasonal ingredients and serve them in a classical way, but my creative side has an appetite for something different. Why not change up your typical sweet potato mash and create an innovative dish that will make your guests feel extra special.
You might be thinking, "Why serve mashed sweet potatoes in a martini glass?" Here are a few reasons why….
1. Everyone gets their own personal martini
2. It's a fun and eye catching presentation
3. You can serve them as a starter to your meal
4. It will inspire guests to mingle
5. Your guests will love you
I'm sure you're convinced, so here are a few tips:
There are many varieties of sweet potatoes. I love them all and use them in my everyday cooking. They are loaded with flavor and have a long list of health benefits. For this recipe, use the red-skinned orange flesh variety. They are sometimes referred to as yams and are available at most grocery stores.
Pumpkin Spice is a mixture of cinnamon, nutmeg, ginger, cloves and sometimes all-spice. You can find it in the spice section at your local food store. If you've never tried it, it smells like Christmas in a jar and I promise you will start using it in your holiday dishes and drinks.
Creme Fraiche is similar to sour cream. It's not as sour tasting and has a creamier texture with a higher fat content. Its silky smooth and a perfect topping to this dish.
Scallions are simply green onions. It sounds fancy, but that's what they are. Only use the green parts for this recipe. It adds a nice color and a little kick.
Do make the glazed pecans at home. They are super easy to make and you will be happy to know that they do not contain any refined sugar. I use pure maple syrup instead! The sea salt adds another layer of flavor, so be sure to include it. You will also have plenty of extra pecans to snack on so don't worry if you eat a few before you assemble the martinis.
Although the sweet potato mash flavor is subtle, once you layer all the components, the flavors will be perfect. Enjoy!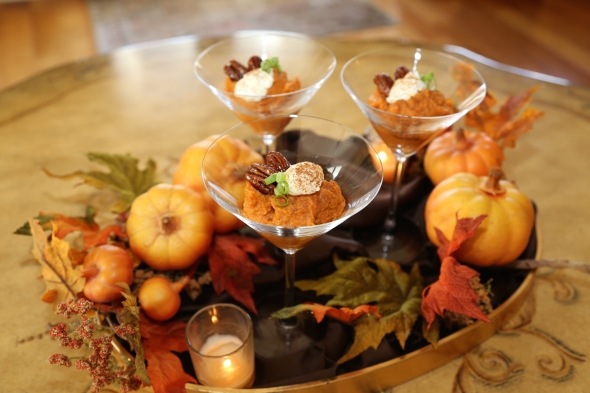 Sweet Potato Mash Martinis
Exciting flavors and a fun presentation will win the approval of your holiday guests with this new twist on sweet potato mash!
Ingredients
3 pounds Sweet Potatoes, peeled and cubed (about 6-7 Potatoes, also known as Yams)
2 large White Onions, roughly chopped
6 large Garlic Cloves, roughly chopped
4 tablespoons Unsalted Butter
¼ cup Whole Milk
1 ½ teaspoons Salt + additional
¼ teaspoon Black Pepper
Glazed Pecans
1 cup raw Pecan Halves
1 tablespoon Water
2 tablespoons Pure Maple Syrup
¼ teaspoon Pumpkin Spice
Freshly Ground Sea Salt to taste
Garnish
Crème Fraiche
Thinly Sliced Scallions (Green Parts only)
Pumpkin Spice
Special Equipment
Martini Glasses-optional
Ice Cream Scooper-optional
Hand Blender- optional
Preparation
Place sweet potatoes in a large pot, cover with water and add a pinch of salt. Partially cover with lid and bring to a boil. Cook until very tender, about 30-40 minutes. Drain well.
While potatoes are cooking, heat 2 tablespoons unsalted butter in a medium skillet on medium-high heat. Add onions and a pinch of salt and sauté until very tender and caramelized, reducing heat if onions start to brown too quickly, about 15 minutes. Add garlic and sauté a few minutes longer. Set aside.
Heat 1 tablespoon water and 2 tablespoons maple syrup in a non-stick skillet on medium-high heat. When mixture starts to simmer (about 30 seconds or less) add pecan halves and gently stir until pecans are coated. Immediately sprinkle ¼ teaspoon of pumpkin spice and sea salt to taste evenly over pecans and continue to stir until pecans are caramelized, about 2minutes (lower heat if needed). Immediately transfer pecans to a dish in a single layer and set aside.
Add onion mixture, ¼ cup milk and 2 tablespoons unsalted butter to the sweet potatoes and mash until very smooth (Option to use a hand blender). Add 1 ½ teaspoon salt and ¼ teaspoon black pepper and mix.
Dollop about two heaping scoops of mashed sweet potato mixture in each martini glass (option to use ice cream scooper). Top with 1 teaspoon Crème Fraiche, a dash of pumpkin spice and garnish with glazed pecans and scallions.
Makes 10-12 Martinis
Download Recipe (PDF)