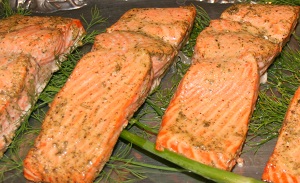 Tarragon Salmon
My most recommended way of cooking salmon is to broil it in the oven. The heat from the top nicely browns the outside of the salmon while the inside remains tender and juicy. This is a simple recipe with flavor that you don't want to miss.
Ingredients
4-6 Salmon fillets
½ cup extra virgin olive oil
1 tablespoon Dijon mustard
1 tablespoon crushed dried tarragon
1 tablespoon fresh lemon juice
½ teaspoon salt
¼ teaspoon black pepper
Fresh Dill or Fennel sprigs for garnish (optional)
Preparation
Turn oven to broil and set rack to upper 3rd of the oven. Line a large baking sheet with aluminum foil and set aside.
Mix olive oil, tarragon, lemon, salt and pepper in a small mixing bowl. Whisk in mustard and set aside.
Lay salmon fillets side by side on the baking tray. Generously brush all sides of the salmon with the marinade. Place the salmon in the oven and broil until just cooked through about 7-10 minutes. Remove from oven and serve immediately.
*Cooking time will vary depending on the thickness of the Salmon fillets.
Download Recipe (PDF)