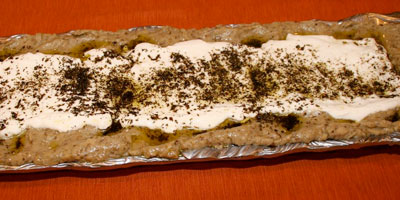 Eggplant Dip
This is a great appetizer dip to prepare with a Middle Eastern menu. It is inspired by an eggplant dip we love to eat at my family's favorite Iranian restaurant.
Ingredients
4 large eggplants
2 garlic cloves
¼ cup whole plain yogurt + ½ cup yogurt for topping
½ teaspoon salt + additional
¼ teaspoon black pepper
1/3 cup extra virgin olive oil
2 tablespoons dried crushed mint
Preparation
Preheat oven to 400 degrees. Slice eggplants in half diagonally and lay on prepared baking pan skin side down. Lightly salt the eggplants and prick each of them with a fork. Put aside until oven is ready. Roast eggplant in middle of oven until very tender, about 45 minutes.
Remove eggplant from oven until cool enough to handle. Scoop flesh from center and put aside. Mince the garlic in a food processor. Add eggplant flesh, ¼ cup yogurt, salt, pepper and pulse a few times until thoroughly mixed but not too smooth. Add additional salt and pepper if needed. Spread eggplant on a prepared dish. Now spread ½ cup yogurt on top of the entire center of the eggplant dip. Do this by placing one scoop of yogurt at a time on each section and carefully spreading on top. Heat olive oil in a small pan on medium high heat. Add mint and saute for 1-2 minutes until mint slightly changes color but doesn't brown. Remove from heat and drizzle on the entire top of the dip immediately. Serve with crispy pita chips.
* You can prepare the dip the day before and add the yogurt and mint topping the day of and refrigerate until ready to serve. This dish can be served hot or cold.
Download Recipe (PDF)