Each year I look forward to the harvest of my butternut squash patch. Waiting for the little peanut shape fruit to grow on the vine and ripen into the amazingly sweet buttery taste of heaven. Straight from the earth and into my kitchen I prepare the squash in many delicious ways. Roasted, sautéed, pureed, mashed into a gnocchi, layered in lasagna and this year tossed into a tasty orzo salad!
The combination of flavors in this dish welcomes the taste of fall. It makes a complimentary and filling side dish to a number of roasted poultry entrees such as chicken, cornish hens, duck and what I am looking forward to the most is serving it with my Thanksgiving Turkey!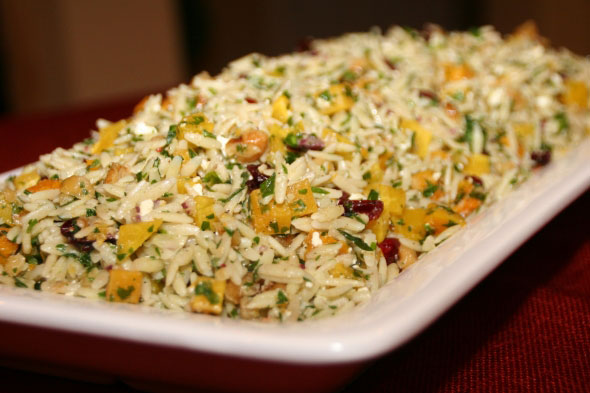 Butternut Squash, Cranberry and Walnut Orzo Salad
Butternut squash, nuts and dried cranberries welcome the fall with its colors and flavors. This makes a perfect side dish to a chicken dinner or better yet your Thanksgiving Turkey. It almost looks and tastes like a stuffing with a modern twist!
Ingredients
1-pound Orzo, uncooked
1 ½ pounds Butternut Squash, peeled, seeded and diced
¾ cup very finely chopped red onion
¾ cup finely chopped Italian Parsley, packed
¾ cup Dried Cranberries
¾ cup chopped toasted Walnuts
5 ounces French Feta Cheese, crumbled
½ cup + 2 tablespoons Extra Virgin Olive Oil
1½ teaspoons Salt + additional (freshly ground sea salt optional for additional salt)
½ teaspoon Black Pepper
½ teaspoon White Pepper + additional
5 tablespoons fresh Lemon Juice
Preparation
Preheat oven to 400 degrees with rack in the center. Toss 2 tablespoons extra virgin olive oil (plus additional if needed) with diced butternut squash in a large non-stick oven proof-baking tray. Spread to make one even layer. Lightly sprinkle with salt (fresh ground sea salt may be used here) and a dash of white pepper. Bake until tender, tossing occasionally, about 15-20 minutes. Remove from heat and cool completely.
Bring a large pot of water to a boil over high heat, add a dash of salt and stir in orzo. Cook uncovered until the orzo is tender but firm to the bite, about 7-9 minutes. Drain the orzo with a strainer and rinse with cold water to stop from cooking. Transfer orzo into a large mixing bowl and immediately toss with ½ cup extra virgin olive oil. Set aside to cool completely.
Add cooled butternut squash, red onion, parsley, dried cranberries, toasted walnuts, 1 ½ teaspoons salt, ½ teaspoon black pepper ½ teaspoon white pepper, lemon juice and crumbled feta cheese to the cooled orzo. Gently toss and serve. May be refrigerated and served for later use.
Serves 8-10
Download Recipe (PDF)