This was not a typical week in my kitchen. I was challenged by having two very special guests from out of town; nine-year old Norman and seven-year old Angelina. Along with them I had the pleasure of another local visitor, nine-year old Skye.
Cooking was a little different for me. No Lobster stuffed beef tenderloin with a red wine reduction sauce? Spicy shrimp tossed in a spinach salad with citrus vinaigrette anyone? How about healthy vegetable pasta? Still no interest. Mmmmm it's time for kid friendly week!
This week I added a new food category to the recipe's page named Kid Friendly Recipes. Together with the kids, we created new recipes. Throughout the week I asked them several questions about their food likes and dislikes. We also discussed nutrition and spoke about ways to eat healthier.
Nine-year old Norman was my biggest challenge. He dislikes most fruits and vegetables and prefers hamburgers, hot dogs, and pizza. Seven-year old Angelina was the healthiest eater of them all. She loves fruits and vegetables and frequently asks if what she is eating is healthy. I was pleased to see how much she loved to snack on grilled asparagus and zucchini. We shared a common interest in food already! Nine-year old Skye was the moderate of the three. She requested a huge bowl of strawberries and wanted to have zucchini stew with rice for lunch. However, she wanted to negotiate a vanilla ice cream drumstick first!
As I interviewed the kids we talked about what most kids liked to eat. With that we created meals that parents can make for their kids at home. The recipes we made taste good and are healthier then eating at fast food restaurants or eating out of a box. They are also fun to eat and ones that kids can participate in making. I was pleased with how excited they were to help in the kitchen. They enjoyed helping and were proud of their innovative creations. They were rewarded by creating their very own dessert recipe.
This week we not only cooked together, we gardened together. The kids helped water potted plants, and helped with picking vegetables and fruits. They loved working in the garden and especially enjoyed picking fresh apples to eat every morning. They learned a lot about gardening and how vegetables and fruits grow. They gained a sense of appreciation for healthy food and enjoyed making different foods from the harvest that we picked.
Overall the outcome of this experience was a success. We were able to cook up several good recipes and incorporated some good healthy eating choices. I will continue to add recipes that we create during their visit and more when I have the pleasure of having more kid visitors. You can click on the kid friendly recipes page to view the recipes. Below I have shared descriptions of the recipes along with photographs of the kid's in the kitchen.
Macaroni and Cheese Egg Muffins
The kids agreed that macaroni and cheese is a common favorite. We created an egg and cheese based mixture with macaroni and baked them in a muffin pan. It tastes very similar to macaroni and cheese with much healthier ingredients. To view this recipe, click here or navigate to the kid friendly recipes page.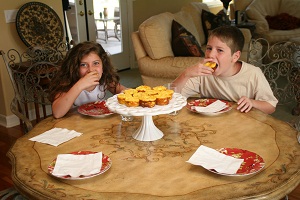 Peanut Butter Pancakes
We added healthy peanut butter to unhealthy pancakes! Making pancakes from scratch is still healthier than making them out of a box. We layered it with strawberry preserves, which is a good alternative to syrup. To view this recipe, click here or navigate to the kid friendly recipes page.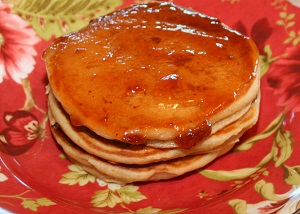 Turkey Meatballs Stuffed with Cheese
Meatballs are another classic favorite. We used ground turkey instead of beef, and stuffed them with mozzarella cheese. The kids loved the melted cheese in the middle. We made it with a simple tomato sauce. I snuck onions, garlic, and a red bell pepper in the sauce. They didn't notice until they saw me making it the second time. Norman decided that he didn't mind eating red bell peppers anymore. Angelina liked the sauce even though she usually doesn't prefer tomato sauce in her food. To view this recipe, click here or navigate to the kid friendly recipes page.
Mango Banana Smoothies
This is a healthy smoothie made with plain yogurt. The kids loved to participate in making smoothies and have requested it often. It is a great way to get their fruit servings for the day. To view this recipe, click here or navigate to the kid friendly recipes page.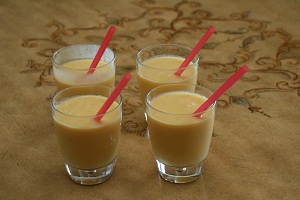 Norman's Veggie Snack Platter with Pickles and Cheese
We found a way to get Norman to eat his vegetables. He chose vegetables that he wanted in his veggie plate and asked to incorporate cheese and pickles. We also added a healthy protein, garbanzo beans. Norman loves Ranch dressing, instead of using Ranch dressing entirely in the dip we made the dip with a small amount of Ranch and a large amount of plain yogurt. He loved the taste of the dip with the vegetables. To view this recipe, click here or navigate to the kid friendly recipes page.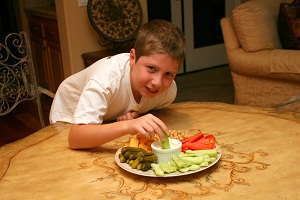 Reese's Pieces Cupcakes
The kids created their own cupcake recipe. A white cupcake stuffed with miniature Reeses cups with a light whipped cream frosting topped with Reese's pieces M&Ms. To view this recipe, click here or navigate to the kid friendly recipes page.